The 2021 Subaru Love Promise Community Commitment Award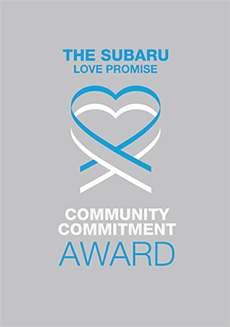 We've been nationally recognized for our dedication to our community and the Subaru Love Promise.
We're honored to receive the 2021 Subaru Love Promise Community Commitment Award. This award nationally recognizes Subaru retailers who are making the world a better place while demonstrating an outstanding commitment to supporting passions and causes in local communities. These efforts are focused in important areas such as the environment, community, health, education, and pets.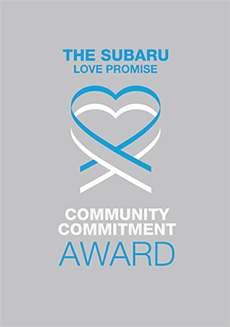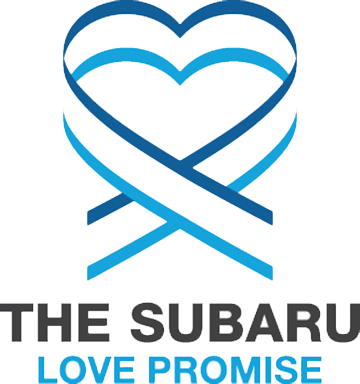 What is the Subaru Love Promise?
Subaru and our retailers believe in making the world a better place and the Subaru Love Promise is our vision of respecting all people. This is our commitment to show love and respect to our customers and to work to make a positive impact in the world.
How is Subaru of Gallatin dedicated locally to the Love Promise?
Our Owner and Operator, Frank Williams, makes it his mission to ensure that we support our local community. He promises to partner with our community through various sponsorships and partnerships. All of us with the Subaru of Gallatin team are proud and honored to have the privilege to work and serve in our Gallatin, Tennessee community! We have developed a better way of doing business. "A better way. Your way." We want your car buying experience to be different, with a friendly, customer-first atmosphere built on honesty, integrity, and transparency.
The Humane Society of Sumner County
Gallatin Parks and Recreation
Volunteer State Community College
Make A Wish of Middle Tennessee
Love Promise Stories from Subaru of Gallatin
Subaru and Subaru of Gallatin believe in making a positive impact on the communities in which we live and work. We uphold that belief through our Love Promise Community Commitment. Every month, we select inspiring stories from customers and partners from around our area who strive to support our collective commitment and feature them here
Subaru of Gallatin helps Students Succeed - Adam M
In Subaru's ongoing effort to have a positive influence in the communities it serves, Gallatin's new dealership has recently partnered with Station Camp High School's football program. Subaru's commitment to support education has led the dealership to come alongside Coach Brent Alexander and his desire to instill the importance of athletes pursuing excellence in education. Love Promise, Subaru's initiative to enhance the area's awareness of environment, community, health, education and pets, is proud to advance the notion of respecting all people through this partnership with Bison student-athletes. Pictured above is the Station Camp Football team where they recently completed their Combine Day events. The players were supporting their teammate, Camden Abbott #18, as he continues his fight with cancer.
---
Making wishes come true through Subaru - Lauren A
Thank you for helping us grant more wishes this year! - Lauren A.Make-A-Wish Middle Tennessee is so grateful to have been selected as a Hometown Charity during this year's Share the Love campaign! Our mission is to grant life-changing wishes for children with critical illnesses. Subaru of Gallatin's support helped us continue to move our mission forward and grant life-changing wishes for children in Middle Tennessee. Our original projection for this fiscal year was to grant 80 wishes. Thanks to the generous support of partners like Subaru of Gallatin, we are on track to exceed this goal and grant even more life-changing wishes! This month alone, we are planning to grant 13 wishes for children with critical illnesses. From virtual shopping sprees to gaming rooms and more, we are so excited to continue finding opportunities to create hope and joy. For each wish granted, there is a child waiting for their wish to come true. The support of partners like Subaru of Gallatin helps us ensure that no child waits even one unnecessary day for their wish to be granted. Not only did the Subaru of Gallatin team help raise funds to support our mission, but the employees and customers also wrote letters as part of our national "Believe" campaign in partnership with Macy's Inc. The Subaru of Gallatin community contributed to the more than 4,400 letters written in Middle Tennessee. For each letter written, Macy's donated $1 to Make-A-Wish. Thank you, Subaru of Gallatin, for your partnership and support! We are so grateful for your donation as part of Share the Love, and for the opportunity to be selected as a Hometown Charity this year.
---
Gallatin Shalom Zone Receives Share the Love Donat - John P
Frank Williams, Managing Partner of Subaru of Gallatin, presents Gallatin Shalom Zone with a $16,800 donation – funds raised during Subaru's Share the Love campaign last November and December. "A donation like this during the pandemic can be life blood for a non-profit," said John Puryear, Chair of the Shalom Zone Board. "We can't thank Subaru enough for partnering with us for their Share the Love event." Attending the check presentation ceremony at Subaru of Gallatin were Mr. Williams, Shalom Zone Executive Director PJ Davis, along with Shalom Zone staff and board members. Shalom Zone's mission is to empower and enrich the lives of individuals and families in its diverse community by providing meaningful assistance and quality programs. Subaru's donation will help fund after school programs, summer day camp, career development, adult learning, and English as a second language among other activities and events the non-profit offers. For more information about Gallatin Shalom Zone, visit https://www.gallatinshalomzone.org/
---
A day to say Thank You - Steve F
On Friday, March 19th, Hippie Radio teamed up with Subaru of Gallatinto present Nashville and Middle Tennessee's official SAY THANK YOU Day. The radio station promoted the day as a time to celebrate and recognize First Responders and dedicated the entire day to have listeners call in and say thank you to the community's First Responders. Police, EMT and Fire personnel came into the studios throughout the day to talk to listeners about their jobs and how they dedicate themselves, 24/7, to serve and protect the citizens of Middle Tennessee. 12 units of First Responders were in the studios to remember the past 12 months of dealing with adversity such as floods, tornadoes, the downtown Christmas morning bombing, Covid and other emergencies. The First Responders were so thankful to hear those 2 words- THANK YOU! And this special day would not have been possible without the generosity of Subaru of Gallatin. Thank you!
---
200 Pairs of Shoes Given Students Thanks to Subaru - Bethany S
More than 200 pairs of shoes were given to local students in March that were donated during the Shalom Zone's Shoes 4 the Soul in partnership with Subaru of Gallatin. The shoes were collected in December at Subaru of Gallatin in all sizes ranging from boys and girls for the younger grades to women and men shoes for the higher grades. After taking time to sort the shoes, the Shalom Zone did a community-wide notice that the shoes were available. Parents, grandparents or guardians called the agency to reserve sizes for their children. On March 30, Shalom Zone held an outdoor, drive-by shoe pickup. "It was a perfect spring day which was great because we were still under pandemic protocol," said Bethany Sullivan, Assistant Executive Director of the Shalom Zone. "It was especially gratifying to personally know through work some of the families and their needs. For example, the foster parents who take care of several children of all ages. Or, the grade school students we have in our after school program. The smile they give you showing off their new pair of shoes is priceless." Shalom Zone plans to make Shoes 4 the Soul an annual event because this first effort was so successful. The agency appreciates its partnership with Subaru of Gallatin for being so involved in the community and taking care of its citizens.
---
A Thank you to Subaru and its team! - Rosemary B
The Gallatin Shalom Zone Board of Directors sent Southern Bites Food Truck to Subaru of Gallatin in January to thank the dealership and its employees for all their assistance with Share the Love and Shoes 4 the Soul. They helped Shalom Zone collect nearly $8,000 in new shoes for students in grades K-12. There were so many pairs of shoes they almost overflowed the back of the Subaru SUV. What a great problem to have! Thank you Subaru of Gallatin employees from the board and from the students!!!
---
Shoes 4 the Soul Super Successful at Subaru - Stephanie H
You never know how a first-time donation drive will turn out. Well, Gallatin Shalom Zone is here to tell you that our first-time Shoes 4 the Soul drive in conjunction with Subaru of Gallatin was successful beyond our expectations. Our initial goal was 200 pairs of new sneakers for students in grades K-12. We asked people to drop them off at Subaru of Gallatin, which dedicated one of their SUVs as the "collection box". Within the first few days, we'd reached our initial goal and by the end of December, we had hundreds more. Lots of individuals dropped off shoes, as well as businesses, school students, and even a basketball team. The City of Gallatin helped by allowing us to decorate a showcase in City Hall to promote the event. And our friends on social media shared our photo and video posts. The partnership with Subaru of Gallatin gave us tremendous exposure for the event and our organization. Once we separate the shoes by size, we'll work with Sumner County Schools to get them to the students. Thank you Subaru of Gallatin!
---
Subaru of Gallatin helps grant wishes! - Lauren A
Since our founding in 2000, Make-A-Wish Middle Tennessee has made more than 2,000 life-changing wishes come true; providing a sense of hope, strength and joy for children with critical illnesses. Being selected as a Hometown Charity by Subaru has allowed us to move our mission forward, despite the challenges the pandemic has presented us with. We remain committed to ensuring every eligible child gets a wish when it is safe and appropriate. More kids are waiting for wishes than ever before. There are currently more than 230 kids in Middle Tennessee waiting for their wish to come true. The funds raised by the generous and committed team at Subaru of Gallatin will help us work towards our goal of granting at least 80 wishes this fiscal year. These wishes, like Jessica's, will provide what medicine cannot – extraordinary and memorable experiences that reconnect wish kids their childhood. Jessica, from Gallatin, was enjoying her pre-teen years, doing well in school, spending time with her friends, enjoying her time in dance classes, and facing everyday middle school challenges. Then she was diagnosed with pediatric brain cancer. While 11-year-old Jessica was receiving medical treatment, Jessica was referred to Make-A-Wish and qualified for a wish. Jessica and her family were so excited when they found out Jessica's wish to go to Disney World would be granted! Jessica, extremely positive and energetic, described waiting for her wish, "It was almost as if it was the light at the end of the tunnel." Make-A-Wish Middle Tennessee, with the support of community partners like Subaru, was able to grant Jessica's wish in 2014. Her Disney adventure helped give her the strength and hope to keep fighting, and she built memories to last a lifetime. Since her wish was granted, Jessica has served as a light in the Gallatin community and beyond, sharing her story, and using her experiences to fuel positivity in others. As part of the Share the Love campaign this year, Jessica was able to share her inspirational story with the team at Subaru of Gallatin. Posing with photos from when she was receiving her treatment, Jessica reflected on her wish and the strength it gave her to keep fighting. The juxtaposition of the thriving teen next to her childhood photos painted a portrait of the power of a wish and the impact a community can make when they rally together, just as the Subaru of Gallatin community has done. Make-A-Wish Middle Tennessee is so grateful for Subaru of Gallatin's support so that more wishes, like Jessica's, can be granted.
---
Subaru Helps Rescue City Tree LIghting - Rosemary B
In a normal year, the City of Gallatin's annual Christmas Tree Lighting on the downtown square is a big public event. Dozens of people gather, children's choirs perform, Santa arrives, and the Mayor flips the switch to light the tree. But Covid-19 caused a dramatic change in plans. The Mayor was still live to light the tree – but most everything else about the event was video-taped in advance. It aired in segments around the Mayor's live commentary. What does all this have to do with Subaru of Gallatin? Well, the decision to make the videos came on the Tuesday before the Friday tree-lighting. We had 4 days to shoot the videos, edit them, and work out a virtual tree-lighting ceremony. The running theme through the event was that Santa was desperately trying to make it to Gallatin, but he ran out of gas on his way. We wanted Santa to be in a new, snazzy, hip car, so we called Subaru of Gallatin about providing one. They quickly said yes and the next afternoon, Eric with Subaru of Gallatin showed up to the video shoot location in a white BRZ. Eric was super nice and patient as we taped Santa's segment with the car. If Subaru had not helped, Santa might not have made it to the tree lighting! Subaru of Gallatin rescued us and Santa for a fun, yet meaningful event in a season dampened by the virus. Thank you Subaru of Gallatin for being a great community partner to help provide holiday cheer throughout the city.
---
Subaru helps make Moe's story serve hundreds! - Patricia F
When eight-year-old Moe arrived at the Gallatin Shalom Zone summer camp, he was wearing a pair of shoes at least two sizes too small. His toes were sticking out the top and hanging off the front end of the shoes. Moe's mom could not afford to buy a new, or even slightly worn, pair of shoes. Sometimes, that's just how it is with families doing their best from day to day. It so happened that a volunteer had dropped off a couple of pairs of shoes in case Shalom Zone could use them. The summer camp leader asked Moe if he'd like to try on the donated shoes. Thankfully, one of the pairs fit. Moe grinned from ear to ear. That's what we try to do at the Gallatin Shalom Zone – help our children in small ways, as well as big. We are ever so grateful that Subaru of Gallatin is allowing us the opportunity to turn Moe's story into something bigger. We call it Shoes 4 the Soul. In the month of November, Subaru of Gallatin partnered with the Gallatin Shalom Zone to set up a collection point – the back of a Subaru SUV inside the dealership – for anyone who wants to donate new shoes for students in grades K-12. In less than two weeks, we'd collected dozens of pairs of shoes with more to come as the campaign continues into December. Thank you Subaru of Gallatin for giving the Gallatin Shalom Zone this great opportunity. While the Gallatin Shalom Zone helps more than 10,000 children every year, having the exposure at Subaru of Gallatin will generate lots more understanding of who we are and what we do in the community. The partnership with Subaru of Gallatin is priceless.
---
Subaru Pays it forward during pandemic times! - Aaron H
In the shadow of the Covid-19 pandemic, 2020 has been a very difficult for everyone, including here at the Humane Society of Sumner County. Like all businesses, small and large, our shelter has taken a huge hit with the loss of our biggest fundraiser(gala). As everything has seemed to slow down around us, the shelter has been as busy as ever with animals being surrendered and their vet care. As we have done the best we can to adapt to the new ways of business, we aren't able to do the fundraisers we were once able to do. Thankfully, the wonderful people at Subaru of Gallatin stepped up and with their "I Paid it Forward campaign" and donated $100 per adoption during the month of October to go to the vet care of the next shelter's incoming dog/cat. These funds are so needed during this time and with being a no kill shelter, our vet bills are very costly. Each animal that is adopted from our shelter is fully vetted and treated for many different illnesses/injuries before going to their forever family. Sadly, we've had a lot of kittens and puppies this summer who've been abandoned at our doorstep and typically those are the ones who are in need of critical vet care. With the #payitforward campaign, we are still able to do all of our community services, which include a food bank for people that cannot afford to feed their pet, or in a bind and need just a helping hand for the month. With the current state of the pandemic, more people and animals are in need of our help, and with the help of Subaru of Gallatin, we can continue to provide all that help.
---
Subaru brings Gallatin Charities together - Mary G
Just a few months ago it was hard to say what kind of impact the Pawpalooza Pet Festival would be able to have raising money for the Gallatin Miracle Park. Only in its third year, the new festival was still growing in its efforts to make the area more pet-friendly, and fundraising has only been more difficult during Covid-19. So it only meant that much more when Subaru of Gallatin teamed up with Mary and the Gallatin Parks and Recreation department to make sure the pet festival was a huge success. By donating awesome plush squeaky toys and pet waste bags, as well as a fun photo op doghouse for the guests and their humans to enjoy, the festival was a bigger success than we could have anticipated in 2020. This event also gave exposure to other organizations that needed the community's support this year, including the Sumner County Humane Society who brought adoptable animals to Pawpalooza. Usually SCHS is so busy with fundraisers of their own they had previously been unable to participate, but this year's pandemic changed all that. And in searching for new ways to raise money and awareness for SCHS the time was finally right to partner with Pawpalooza Pet Festival. And because of the support of Subaru of Gallatin - along with approximately 600 guests, 196 dogs and two cats - the 2020 Pawpalooza Pet Festival was a huge success. Subaru of Gallatin's role in Pawpalooza helped raise awareness of homeless pets in the community but also the need we have for help to finish building the Gallatin Miracle Park. Plus, all nine dogs brought to the festival found loving homes, and through the generosity of the sponsors, vendors and visitors to the event, nearly $2,000 was raised for the Gallatin Miracle Park, an all-inclusive playground, ballfield and pedal park under construction for those in the community with difference physical and mental disabilities. When finished this will be the largest in middle Tennessee that promotes all citizens to play together NOT separate. Gallatin Parks and Recreation is grateful for the partnership with Subaru of Gallatin and look forward to future events together. In fact, Pawpalooza Pet Festival is so excited that Subaru of Gallatin pledged to be a sponsor again next year, to make the best, even better. Gallatin and all of Sumner County will be forever grateful for all the blessings that were bestowed on us this year for both our furry friends and our friends with special needs. Thank you, Subaru of Gallatin.
---
Subaru helps Student Succeed THEIR WAY! - Karen M
Anedra Moore is a single mom who has overcome multiple obstacles that most people would have crumbled under. She survived an abusive marriage and is a suicide attempt survivor. She decided to live life to the fullest after her suicide attempt, found a great career and adopted a child and her special needs sibling. Life was great again. Then devastation struck Anedra again when she lost her job. Her father encouraged her to go back school but she had no way of knowing how she would pay for it or care for her children. However, with her parents help and being awarded a scholarship through the Volunteer State College Foundation, she was able to complete her degree in Cyber Security. Just prior to her graduation, her biggest supporter and cheerleader, her father, passed away. Anedra said she couldn't have survived all of this if it weren't for the Volunteer State College Foundation scholarship and the friends she made along the way. She has come out a stronger woman and has chosen to make the most of every moment. Anedra put it best by saying: "Because of your scholarship, I can provide a better future for my two children. Your generosity truly makes a difference by turning dreams into realities." This is only one of over 200 stories that the Foundation has the honor of hearing each year through the investment of donors into the lives of students. Thanks to our partner, Subaru of Gallatin we are able to provide 7 more scholarships a year to people just like Anedra"
---
Subaru Reads with a Purpose! - PJ D
The new Subaru of Gallatin, Tennessee has already made a huge impact on the community. PJ Davis, Director early on has developed a partnership through the Gallatin Shalom Zone and Frank Williams, Owner and Ellis Johnson General Manager. Gallatin Shalom Zone is a community resource center based in a 50,000 square foot old historic Black high school. The center rents to non-profits at below-market rent. The nonprofits including a Head Start with 88 children, counseling, and other services. Gallatin Shalom has their own programs in addition to owning and operating the building. The programs include an after school program, library, summer camp, training space, and adult education programs. "Everyone at Shalom gives back to the community," stated PJ Davis the Executive Director.PJ Davis invited Subaru to come to the Shalom Zone for part of the sales force training."We loved having Subaru in our building and getting to know the new sales team they have so much excitement and energy coming to Subaru and Gallatin is thrilled to have the dealership in our city" stated, PJ Davis Director. Subaru enjoyed being part of Dr. Seuss Week by reading to the after-school program. Ben Webster who is in sales at the new Gallatin Store read to the program.
---