The 2023 Subaru Love Promise Customer and Community Commitment Award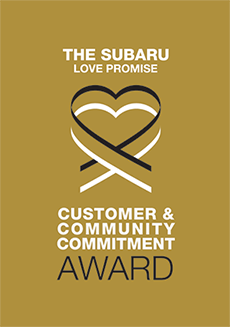 We've been nationally recognized for our dedication to our customers, our community, and the Subaru Love Promise.
We're honored to receive the 2023 Subaru Love Promise Customer and Community Commitment Award. This award nationally recognizes elite Subaru retailers who provide an exceptional customer experience at every interaction with Subaru. These retailers have also demonstrated an outstanding commitment to supporting passions and causes in their local communities in important areas such as the environment, community, health, education, and pets.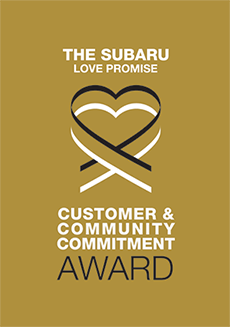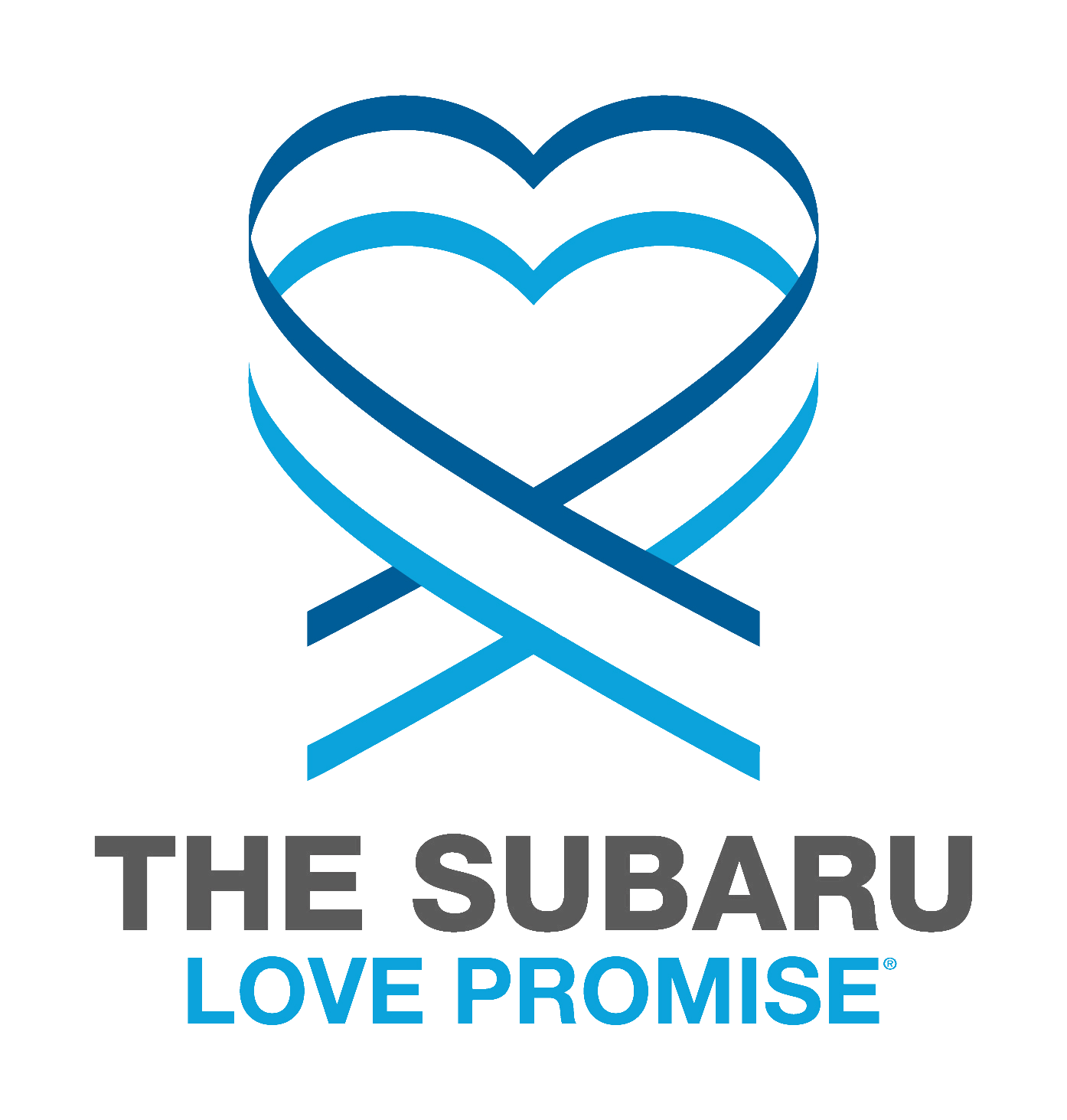 What is the Subaru Love Promise?
Subaru and our retailers believe in making the world a better place and the Subaru Love Promise is our vision of respecting all people. This is our commitment to show love and respect to our customers and to work to make a positive impact in the world.
How is Subaru of Gallatin dedicated locally to the Love Promise?
Our Owner and Operator, Frank Williams, makes it his mission to ensure that we support our local community. He promises to partner with our community through various sponsorships and partnerships. All of us with the Subaru of Gallatin team are proud and honored to have the privilege to work and serve in our Gallatin, Tennessee community! We have developed a better way of doing business. "A better way. Your way." We want your car buying experience to be different, with a friendly, customer-first atmosphere built on honesty, integrity, and transparency.
The Humane Society of Sumner County
Gallatin Parks and Recreation
Volunteer State Community College
Make A Wish of Middle Tennessee
Love Promise Stories from Subaru of Gallatin
Subaru and Subaru of Gallatin believe in making a positive impact on the communities in which we live and work. We uphold that belief through our Love Promise Community Commitment. Every month, we select inspiring stories from customers and partners from around our area who strive to support our collective commitment and feature them here
Consistent output of Love from Subaru for the community! - Rosemary B
Gallatin Shalom Zone's partnership with Subaru of Gallatin and their Subaru Share the Love annual campaign has helped well beyond the generous donations. The exposure Gallatin Shalom Zone receives through the Subaru Share the Love Event has brought new children and families to access our programs, new volunteers, and helped expand our reach in Gallatin and Sumner County. Our Shalom Zone community, staff, and board members are grateful for everything the crew at Subaru of Gallatin does to honor and promote our non-profit and the people we serve.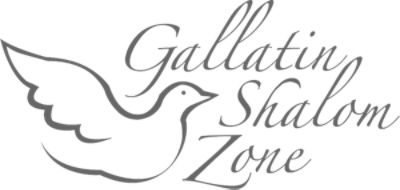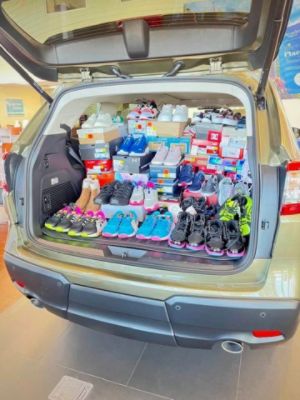 ---
Subaru joins Special Needs Foundation for a day of fun! - Ed N
The Special Needs Sports Foundation, Inc. and its Club Able 2B Me program was very honored by the support of Subaru of Gallatin for our recent 10th Annual SNSFI Bowling Tournament. We were so glad to meet your team members at the tournament. SNSFI tries to maintain a level of participation in all of our programs and activities, as we continue to expand and reach more individuals and providing recreational and social activities. Just this past weekend, SNSFI was able to hold its first Winter Wonderland Party (first party since the pandemic). We had well over 200 in attendance. With Subaru's generosity and support, SNSFI continues to grow and "share the love". Our participants, no matter their age or disability, are always so open, kind, and loving. Sometimes we think we receive more from them than they get from us. There is an anonymous quote that I often cite. It goes as follows: "There will always be a reason why you meet people; either you need them to change your life, or you are the one who will change theirs". We believe Subaru has touched so many individuals with your programs of support and SNSFI would like to thank you for this support. Ed Neal, President/Chairman Special Needs Sports Foundation, Inc. and Club Able 2B Me

---
Christmas for 460 kids! - Linda O
Christmas 4 Kids wants to send a huge Thank You to Subaru of Gallatin for their assistance in providing a wonderful Christmas for 75 middle school students and 385 elementary kids. Your contribution helped us provide $175 for each of these children to purchase whatever they want for Christmas. These children are all from free/reduced lunch families who, without your help, would not have had much of a Christmas. They are selected by their school guidance counselors based on need. We were also able to treat the children to a party at the Gallatin Civic Center with a band, Santa, and Pizza. Each elementary student also received a new winter coat. We've been providing Christmas for children in Sumner and Wilson Counties for 40 yrs, helping thousands of families. We have volunteers and Board Members who shopped with us as children. They remember how much fun they had and want to pay it forward. We are not only providing Christmas, but we are also showing them there are good people in this world willing to help their neighbor! Again - thank you for your dedication to our community and for providing a true lifetime experience for nearly 500 children! We can't tell you how much you are appreciated!! Wishing you and all employees of Subaru of Gallatin a Verry Merry Christmas!! Linda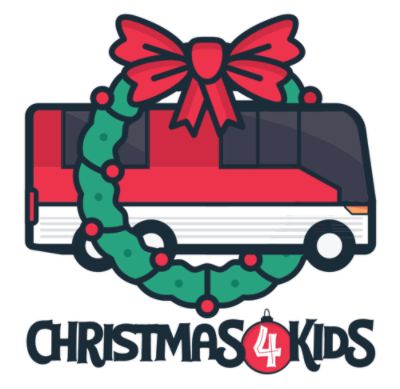 ---
Subaru helps Complete the Dream - Karen M
Volunteer State Community College has seen a growth in need from our students. We are seeing more applications for scholarships, more visits to our food pantry (The FEED) and requests for our Emergency Student Relief Fund. Subaru not only funds scholarships, but through their support Volunteer State Community College is able to grow resources for the food pantry and emergency funds. The College experienced 483 visits to our food pantry last year alone. Our goal, with generous community partners like Subaru, is to help get these students across the finish line to complete their degree. Jessica, who received a scholarship, was immensely grateful: "Thank you for your generous support! Thanks to you, I am going to be the first one in my family to finish college! I will graduate this semester. Generally, takes around 2 1/2 years for an Associate's Degree, mine has taken much longer. I've had to face many hurdles along the way and even had to take some time off after losing my grandfather. I was raised by my grandparents when me and siblings were placed into DCS custody. We were eventually awarded to my grandparents. Since I was the oldest, I helped take care of them. But losing my grandfather was devastating. Instead of giving up, I came back and was more determined than ever to finish. I work hard to keep my grades and GPA up each semester while maintaining a job, home, and family. This scholarship is such a blessing and has helped me to further myself without having to stress over whether or not I can afford to continue. At the age of 33, now more than ever, it is important that I get a degree to keep up with the ever-growing career world. I also want to be an inspiration to my siblings to help them see you can accomplish anything you set your mind to do. This scholarship is the only reason I can do that! I wouldn't have made it this far without this help so thank you from the bottom of my heart"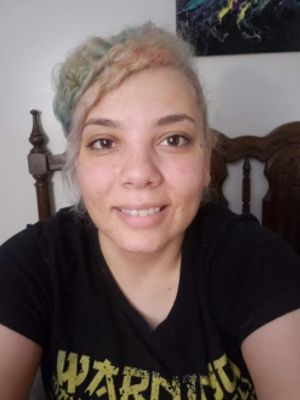 ---
Subaru of Gallatin helping 34 Under dogs/cats find their furever homes! - Pam R
The Humane Society of Sumner County in Hendersonville, TN has been serving Hendersonville/Sumner County for 48 years rescuing and adopting cats and dogs. We are so appreciative of having the opportunity to partner with Subaru of Gallatin for the past three years for the "Pay It Forward" campaign! The Humane Society of Sumner County is a 501c3 who relies solely on donations from the public to keep our doors open and continue providing support for the dogs and cats of Sumner County in need of forever, loving homes. During the "Pay it Forward" campaign we displayed all our adoptable cats and dogs in the showroom via a board containing photos of each with corresponding stories and adoption papers located on our set up table. We were able to adopt 34 of the animals showcased in the showroom!! The Humane Society resumed regular operations earlier this year following significant restrictions on center visits due to COVID-19 imposed during 2021 which were limited to appointments only. We are now open to the general public during our regular visiting hours. Thanks to the "Pay it Forward" campaign, a total of 34 cats and dogs found their forever homes during October, five of whom were considered to be "underdogs." One dog in particular, Max, was adopted during the last week of the campaign. Max was pulled from Sumner County Animal Control by a wonderful woman in the community. Max had some medical issues that needed to be addressed so this woman adopted him, knowing she would not be able to keep him long term but also knowing that, without immediate medical intervention, he would not survive. She took him to a local veterinarian who found that Max had swallowed a shish kebab skewer which had punctured his bladder. She sponsored his medical treatment then surrendered him to HSSC on 05/26/2022 to find his forever home acknowledging she was not able to provide that perfect home due to her age and physical condition. Initially, Max had some issues related to the trauma he sustained to his bladder but this improved during his time at HSSC. During his behavioral assessment it was determined Max would be a good candidate for apartment living or a home with a yard. He was found to be good with other dogs but would prefer a home without children, cats or other animals. Max was adopted on 10/28/2022 into his forever home by a young couple with no children but two other dog siblings with whom he quickly bonded. One of the most exciting adoptions we had during the Pay It Forward campaign was a bonded pair of senior cats, Kit and Kat. This pair was surrendered to HSSC on 07/22/2021. They were very sweet, friendly and affectionate. They were fine with other cats but preferred the companionship of each other. They were initially adopted on 01/26/2022 but were returned on 02/15/2022 with the adopter stating they were not playful nor did they seek out affection from him. Upon their return it was determined that Kat was in need of extensive dental work which was provided. These beautiful cats remained at HSSC where they were loved and cared for but were repeatedly overlooked by potential adopters because they were large, senior cats and the requirement that they be adopted together. Their perfect family finally came for them on 10/22/2022…a family with children who immediately fell in love with this sweet pair. Needless to say, all who cared for this pair during their tenure with HSSC were thrilled! Thanks again to the Subaru Pay It Forward campaign and Subaru of Gallatin, TN for all the support you provide to the Humane Society of Sumner County. It's partners like you that make it possible for us to fulfill our mission to our community!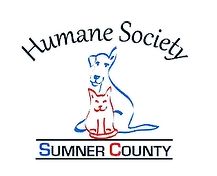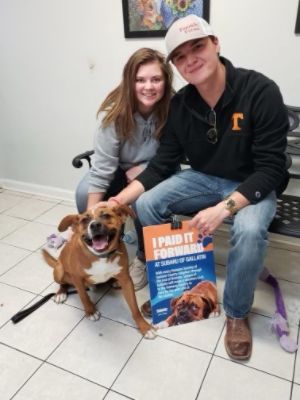 ---
Subaru helps keep Women's Shelter in good condition! - Adam M
For the second consecutive year Subaru of Gallatin (TN) has partnered with Station Camp High School's football program to allow the Bison to flourish on the field. SCHS, a local high school in the same community, has benefited greatly from Subaru's generosity on the field; but the benefits don't end there. Employees of the local dealership and the football team work together to help the community of Gallatin. The primary beneficiary of this teamwork is the local women's shelter Home Safe. Players and Subaru employees have done beautification projects around the Shelter's headquarters. In addition, painting the interior of the shelter itself has been accomplished. Further projects will follow. As a diamond level sponsor of SCHS and as a community partner, both the community and women in crisis, are grateful for the difference the Subaru/SCHS partnership is making in Gallatin.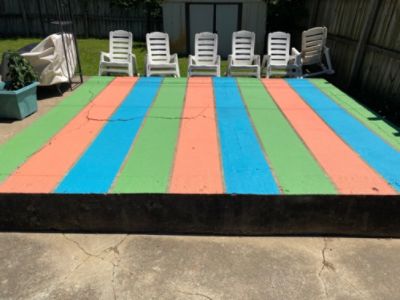 ---
Hundreds of children and families say "Thank You!" - Rosemary B
Gallatin Shalom Zone is very humbled and overwhelmed by the Share the Love Donation from Subaru of Gallatin this year. There were more than a few happy tears shed at the check ceremony. Subaru of Gallatin's commitment to community this year has helped put new shoes on the feet of 500-plus school children, provide summer camp for 68 children, and launch our quarterly Community Saturdays where we provide free lunch, haircuts, music, and hand out commodities to hundreds of families. We love the management and staff at Subaru of Gallatin. Thank you! – Rosemary B.
---
Subaru loves Learning - Karen M
Many believe that because of the state-funded Tennessee Promise or Tennessee Reconnect programs, scholarships are no longer needed for community college students. Unfortunately, that isn't the case. In fact, these programs only cover a small percentage of students that attend Volunteer State Community College (VSCC). Scholarships are still very much needed! Because of the generosity of Subaru of Gallatin and Frank Williams, VSCC was able to award 259 scholarships to Volunteer State Community College students during the 2021-2022 school year. A recent scholarship recipient, Junia, didn't qualify for TN Promise since she didn't attend college immediately following high school graduation. Instead, in the Mennonite Community where she was raised, girls weren't expected to attend school beyond 8th grade. However, Junia completed high school and went on to work in her family's bakery. Soon Junia realized that she wanted to do more in life and decided to follow in her sister's footsteps by pursuing college. Through a Volunteer State College Foundation scholarship, Junia was able to attend college. According to Junia, "this scholarship is more than just funding my education…it has made me feel a part of something bigger. It has made me feel part of an academic world that I didn't know was out there!" Junia is one of many local community college students that Subaru of Gallatin has helped through their Love Promise Community Commitment.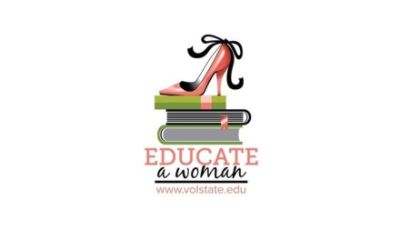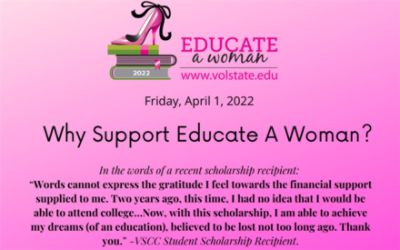 ---
The Smiles Say it All with Help from Subaru - Patrcia F
Sometimes, we take so much for granted. Most of us, without much of a second thought, probably run to the store or shop online when our kids need a new pair of shoes. But some of us simply cannot afford that expense. Imagine how hard it is when you've got children who can outgrow shoe sizes several times in a year! Thanks to Subaru of Gallatin during its Share the Love event in December, Gallatin Shalom Zone (GSZ) received donations of nearly 500 pairs of new shoes to give to students in grades K-12. Those shoes are now sorted and displayed by size in a room where GSZ volunteers and staff can take students shopping for a new, free pair of shoes. The smiles on their faces say it all! They pick the shoes they want and can walk out of the room wearing their new shoes. It is a blessing to all of us at Gallatin Shalom Zone to be involved in this project. However, Shoes 4 the Soul would not be successful without our partnership with Subaru of Gallatin and their fabulous team! We thank our Gallatin community and Subaru of Gallatin for caring and being so generous. The students send you all their big smiles, too!
---
Subaru embodies the meaning of True Love - Leslie A
From the moment I walked into Subaru of Gallatin I was treated like a valued friend. Everyone as kind and made sure I was comfortable. I had leased my Forester in California and the lease was up. I have loved my car from the moment I sat in it and wanted to buy it. Miracle and Chris carefully prepared a payment plan to fit my budget. I walked out of the dealership owning my dream car! One day I received a letter from Subaru stating that there was a recall on the A/C unit and I should bring it into the shop to have it fixed for free. I was so relived because my A/C had stopped working and I didn't have the money to have it fixed. I thought I was going to have a long and hot summer! But there it was my hand, a gift of free repairs! Subaru of Gallatin got me right in and performed the requirements of the letter. But when I was driving the next day, hot air was still coming out. I called and went in the next day. When I got to Subaru of Gallatin I was told I needed a diagnostic done, for what seemed to be quite a bit of money. I couldn't afford to even have them look to find what's wrong. My whole body started shaking and I burst into tears! He said he was sorry but that was the policy, I panicked, my mind raced and then I thought " I have to find Miracle and Chris!". When I entered her office, she was compassionate and said we could figure it out, calming me down. She had me explain what happened and shared my story with Chris. Chris checked with bill to see what they could do to help resolve my issue. They collaborated for a while in private. When they came out they smiled and me and gave me their plan! I was so amazed at how much these people cared. They said they would waive the diagnostic fee, find out what's wrong and go from there. They assured me that I shouldn't worry about the cost until they knew what was wrong. Miracle made me comfortable in the waiting lounge. After a while, a young made from the service department, named Chris, came out to sit next to me. He carefully explained everything to me and said a pin had slipped out and as causing the trouble. The service technician was able to fix it and made sure everything was working properly. Then Chris leaned forward, took my hand, and with a warm and sincere voice said " There will be no charge." I lost my breath for a minute and was overwhelmed with gratitude. I was so thankful and surrounded by people who embody what true love is. What these beautiful people did for me is indescribable. I continue to this day to share my story and gratitude for Subaru of Gallatin with as many people as I can.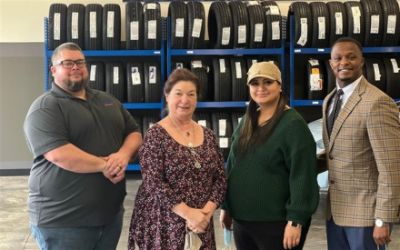 ---